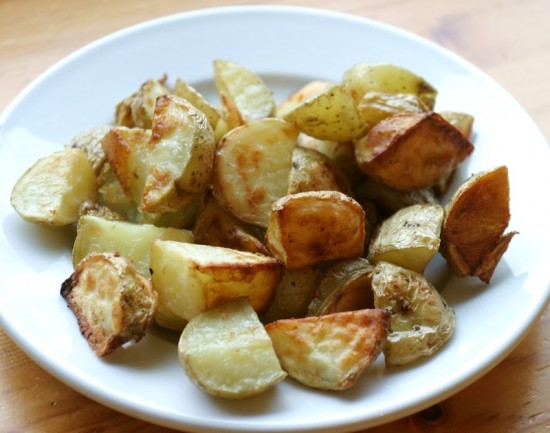 Roasted potatoes are a treat with almost any dish, even with scrambled eggs in the morning. You can use any type of potato, and for this batch I used a potato called a Klamath Pearl because Trader Joe's had a great deal on them – they are from Frieda's (and they're organic).
Roasted garlic potatoes
Ingredients
2 pounds of potatoes
1-2 teaspoons of Kosher or sea salt (to your taste – we like them salty!)
2-3 tablespoons of olive oil (and more to cover the baking pan or cookie sheet)
1 garlic clove, pressed, or 1 teaspoon of garlic powder
Preparation
Preheat oven to 425 degrees F. Wash, slice, and dice the potatoes into bite size pieces.
Place the potatoes in a bowl and add the olive oil, garlic, and salt. Blend all the ingredients until the potatoes are well coated.
Brush or spray a cookie sheet or pan with olive oil until fully coated, and then spread out the potatoes on the cookie sheet.
Bake for about 35-40 minutes. Sometimes, if I remember, I toss them around half-way through the roasting.
Enjoy!
You might also like...