There's been a theme around here lately, besides being low sugar. Can you guess what it is?
Here's a hint: Almost all the recipes I've posted in the last month or so don't require chewing. The no-churn ice creams, soups and now this potent smoothie.
It turns out my older son experienced a Crohn's flare and I had jaw surgery, so a liquid diet was the name of the game for at least the past few weeks (for me) and months (for him). Needless to say it's been a little crazy lately, but things are settling down and healing—for both of us. Whew.
He tried to get control of the Crohn's flare with diet, including Paleo, SCD and then a liquid diet. No luck. He's back on Humira, and while it's only been a few weeks, he's already feeling better. Unfortunately he had to endure the pain and discomfort that come with a flare during a critical time: college finals. Poor guy—he seems to flare at the worst times.
As for me, I have been wearing braces for almost two years. Long story. I had braces once before but I really needed the surgery to fix things the right way. So I've been on a liquid diet for over two weeks now, and I'll be on a soft-food diet plus liquid diet for another two weeks or so. Initial bone healing takes about 6 to 8 weeks and then another 3 months for full healing. After that my next goal is to get my braces off!
So I've been doing a few things to speed up my healing, including smoothies like this golden gem. Turmeric, besides being an anti-inflammatory spice, creates the most beautiful yellow-orange glow in this mix. And I included a few subs for coconut milk but it just seems like turmeric and coconut milk make beautiful partners.
Cheers!
Print Recipe
Pin Recipe
As featured in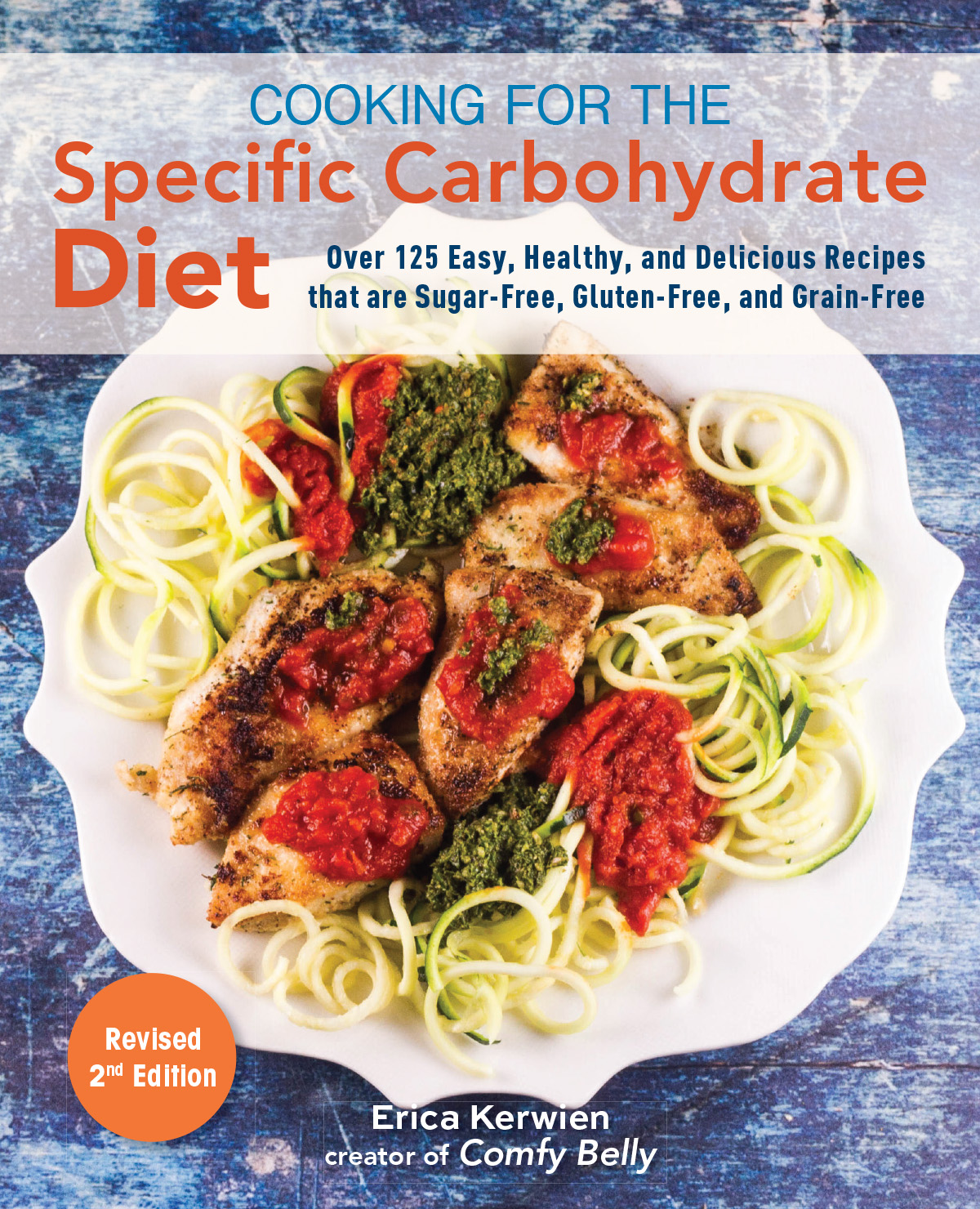 Cooking for the Specific Carbohydrate Diet
Turmeric Smoothie
When I have the fresh ingredients on hand, I replace the ground ginger with about 1 teaspoon of fresh grated ginger and about a tablespoon of fresh turmeric root. The dried, ground version of spices and herbs packs a stronger flavor punch than the fresh version.
If you're looking for a sub for coconut milk, you can use any milk, dairy-free or not, or try yogurt. If you want to reduce the calories here, you can go with reduced fat coconut milk or another light milk or yogurt. If you don't use yogurt, try adding the contents of one probiotic capsule to boost your immune system.
* If you're following SCD, only use honey.
Ingredients
1

cup

coconut milk

2

bananas

1/2

teaspoon

ground ginger

2

teaspoons

ground turmeric

1

tablespoon

maple syrup

or honey (optional)

1/2

teaspoon

vanilla extract

6

ice cubes

or more if needed
Instructions
Place all the ingredients in a blender or food processor and blend until smooth and creamy.

Enjoy! Store the leftovers in the refrigerator for a few days or freeze into a pop.
Nutrition
Calories:
366
kcal
|
Carbohydrates:
39
g
|
Protein:
4
g
|
Fat:
25
g
|
Saturated Fat:
22
g
|
Sodium:
20
mg
|
Potassium:
744
mg
|
Fiber:
3
g
|
Sugar:
21
g
|
Vitamin A:
76
IU
|
Vitamin C:
12
mg
|
Calcium:
37
mg
|
Iron:
5
mg