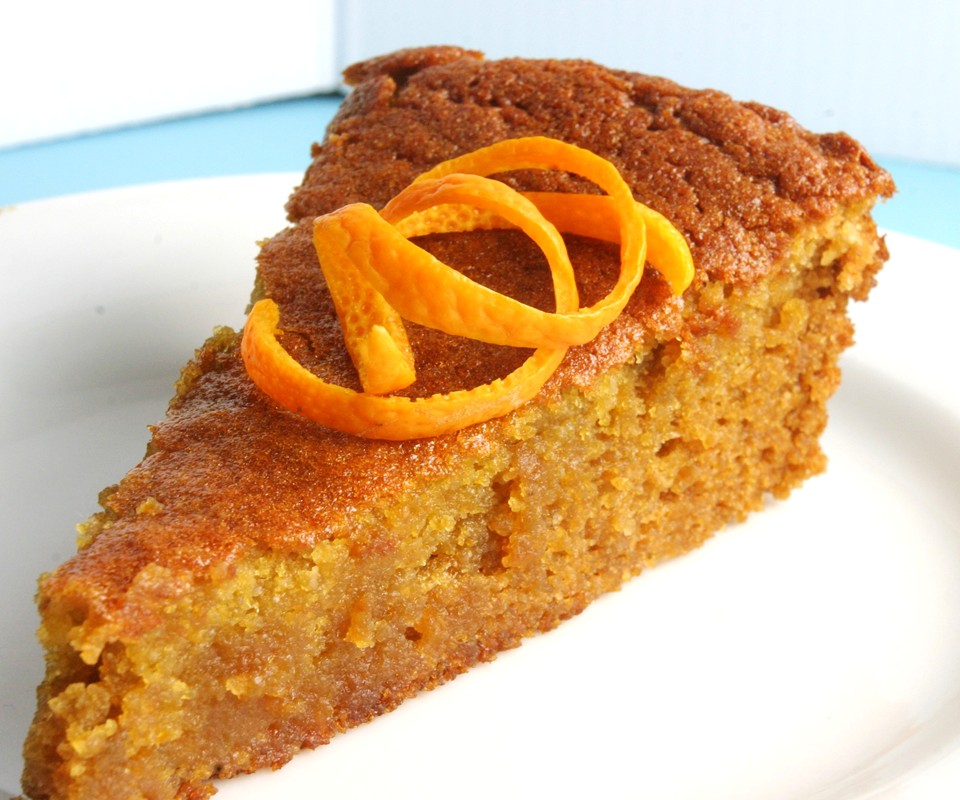 Valencia orange cake goes back centuries. It originates from the traditional Spanish sponge cake that uses Valencia oranges (or other oranges). It is thought that the best oranges are produced in Valencia, Spain. This reminds me that the best clementines I've ever had were from Spain, but they are hard to find here in the United States. But not Valencia oranges – they are grown here as well. So you shouldn't have a problem finding some sweet, organic Valencia oranges. But just in case, you can use other oranges in a pinch.
I highly recommend organic oranges for this recipe because you are eating the entire orange (and pesticides tend to be highly concentrated in the skin), and you're only buying two of them.
This cake has a sweet, tangy, orange flavor, and it is very moist. It is great on its own, or it goes well with crème frâiche, whipped cream, or a scoop of ice cream. This recipe has been worked over by me, but my influence is from the wonderful cookbook, The Book of Jewish Food: An Odyssey from Samarkand to New York
, by Claudi Roden.
Valencia Orange Cake
I used a 9 inch spring-form pan for this recipe. Updated on 1/1/13: I found you can reduce the honey from 1 cup to 3/4 cup and still have a nice, sweet cake. If you prefer this cake a bit more honey saturated (as the photo shows), use 1 cup of honey. 
Ingredients
2

organic Valencia oranges

4

eggs

3/4

cup

of honey

2

cups

of blanched almond flour

1

teaspoon

of baking soda

1/2

teaspoon

of salt
Instructions
Place two whole organic Valencia oranges in a pot with enough water to cover them. Add a tightly sealed lid. The oranges will float, but they should be mostly covered. Simmer them in the pot for about 1 1/2 to 2 hours. When you can easily glide a toothpick or fork through them, they are ready. You can add water to them while they are cooking, if necessary.

Cool the oranges for a few minutes, slice them into wedges and remove any pits or inedible parts (like the nub where the stem was).

Process the oranges until you have a smooth, orange paste without lumps.

Preheat the oven to 325 degrees F. (I bake using a convection oven setting, so I place the temperature at 300 degrees F).

To get a slightly lighter cake, separate the egg yolks and egg whites, and then whip the egg whites separately until stiff peaks form.

In a bowl, beat eggs (or egg yolks if separated) until well blended, and then beat in the honey and dry ingredients (baking soda, salt, and almond flour).

Fold in the almond flour and orange paste into the egg and honey mixture and blend well.

If you whipped the egg whites separately, here is where you want to fold the egg whites into the rest of the batter.

Use a spring form pan or a well buttered baking pan. Butter or oil the bottom of the spring form pan. No need to butter the sides of the spring form pan.

Pour the batter into the pan and bake for about 1 hour, or until a toothpick inserted into the center comes out clean. Make sure to bake it thoroughly, especially in the center, or it may settle when it cools. Even if it settles, it still tastes wonderful.

Enjoy!
Nutrition
Calories:
302
kcal
|
Carbohydrates:
36
g
|
Protein:
9
g
|
Fat:
16
g
|
Saturated Fat:
2
g
|
Cholesterol:
82
mg
|
Sodium:
169
mg
|
Potassium:
106
mg
|
Fiber:
4
g
|
Sugar:
30
g
|
Vitamin A:
192
IU
|
Vitamin C:
18
mg
|
Calcium:
86
mg
|
Iron:
2
mg