I appreciate cauliflower's versatility. It's sort of like the vanilla of vegetables. Plain, yet can take on many textures and flavors. Here's a corn-free take on polenta using cauliflower.
There are many ways to dress up "polenta", so I'll leave that up to your imagination and taste. Having this basic recipe in your back pocket means you just need to dream up the other stuff that pairs well with it.
I can eat polenta with almost anything. Alone with some Parmesan mixed in or shredded over it. My favorite is roasted veggies, mushrooms, and some greens to top it off, hence the photos of my latest meal with cauliflower polenta.
Sometimes, at the very end of cooking the polenta, I'll blend in some Parmesan to create a creamier version of the same. If I add Parmesan, I also reduce the amount of salt I add to the cauliflower.
For the photos, I topped the polenta with roasted ratatouille from my first cookbook, or you can use this recipe. I also chopped up about 2 cups of crimini mushrooms and sautéed them in a teaspoon of oil and a pinch or two of salt on a low heat for about 10 minutes or so, until they began to darken (not burnt but almost).
As featured in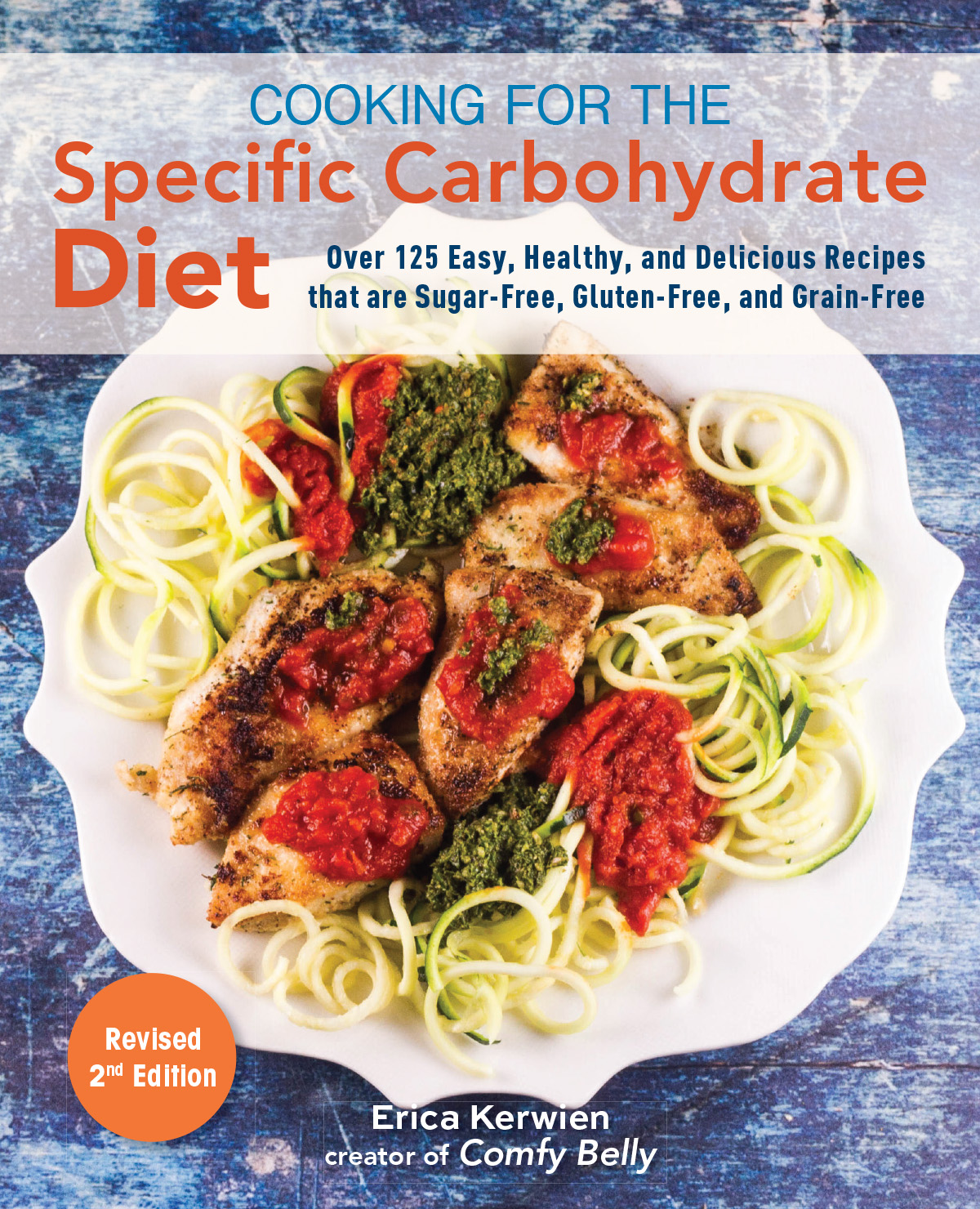 Cooking for the Specific Carbohydrate Diet
Cauliflower "Polenta"
This recipe is from my cookbook, Cooking for the Specific Carbohydrate Diet 2nd Edition, page 142.
One large head of cauliflower is about 2 pounds and yields about 4 cups of cauliflower for this polenta recipe. Use two smaller heads of cauliflower if you can't find a large one.
You can also make your life easier by buying pre-riced cauliflower.
You can make it richer by adding some Parmesan cheese or other cheese at the very end of the cooking time. About 1 to 2 tablespoons is good, and then blend in.
The turmeric lends the yellow color and it's inflammation friendly. And feel free to add more than the recipe calls for.
Equipment
Food processor, unless you buy cauliflower pre-riced
Ingredients
1

large

cauliflower head

2 pounds or 900 g; see recipe notes

3

cups

water

1/4

teaspoon

salt

4

tablespoons

unsalted butter

or ghee

1/2

teaspoon

turmeric powder

optional
Instructions
Chop the cauliflower head into chunks and pulse the pieces in a food processor. Pulse until all the cauliflower is in very small grain-like pieces.

Heat a large frying pan on a medium heat for a few minutes.

Once the pan is warm, add the cauliflower, butter, about half of the water, and salt. Stir the cauliflower to melt the butter and then simmer in the water. Add more water as necessary

Simmer with a steady bubble for about 15 to 20 minutes, or until the cauliflower is soft but not mush. While it's simmering, add a bit more water if needed.

Turn the heat off and stir in the turmeric. Taste it and add more salt to taste, or Parmesan cheese if you prefer.

Serve warm with your favorite toppings.
Nutrition
Calories:
154
kcal
|
Carbohydrates:
11
g
|
Protein:
4
g
|
Fat:
12
g
|
Saturated Fat:
7
g
|
Cholesterol:
30
mg
|
Sodium:
219
mg
|
Potassium:
628
mg
|
Fiber:
4
g
|
Sugar:
4
g
|
Vitamin A:
350
IU
|
Vitamin C:
101
mg
|
Calcium:
55
mg
|
Iron:
1
mg