I've seen a few versions of this recipe but didn't take it too seriously. I didn't really believe it was possible. But I had to try it.
I won't lie. It's not identical to the texture and taste of an English muffin made with all-purpose flour, but it's a good substitute if you can't eat grains. And it's a really quick way to whip up some grain-free bread. Just adding butter melted on top immediately after it comes out of the toaster changes it significantly. So just think about piling eggs, spinach, and other great muffin toppings on them, and it gets exponentially better.
You might also consider preparing the dry ingredients ahead of time, and then adding the wet ingredients to the ramekin when you're ready to bake them.
So, here's my take on it. Fairly basic, and I'm going to try a cinnamon raisin version next. Adding a bit of cinnamon, honey or maple syrup, and a few raisins should do the trick.
As featured in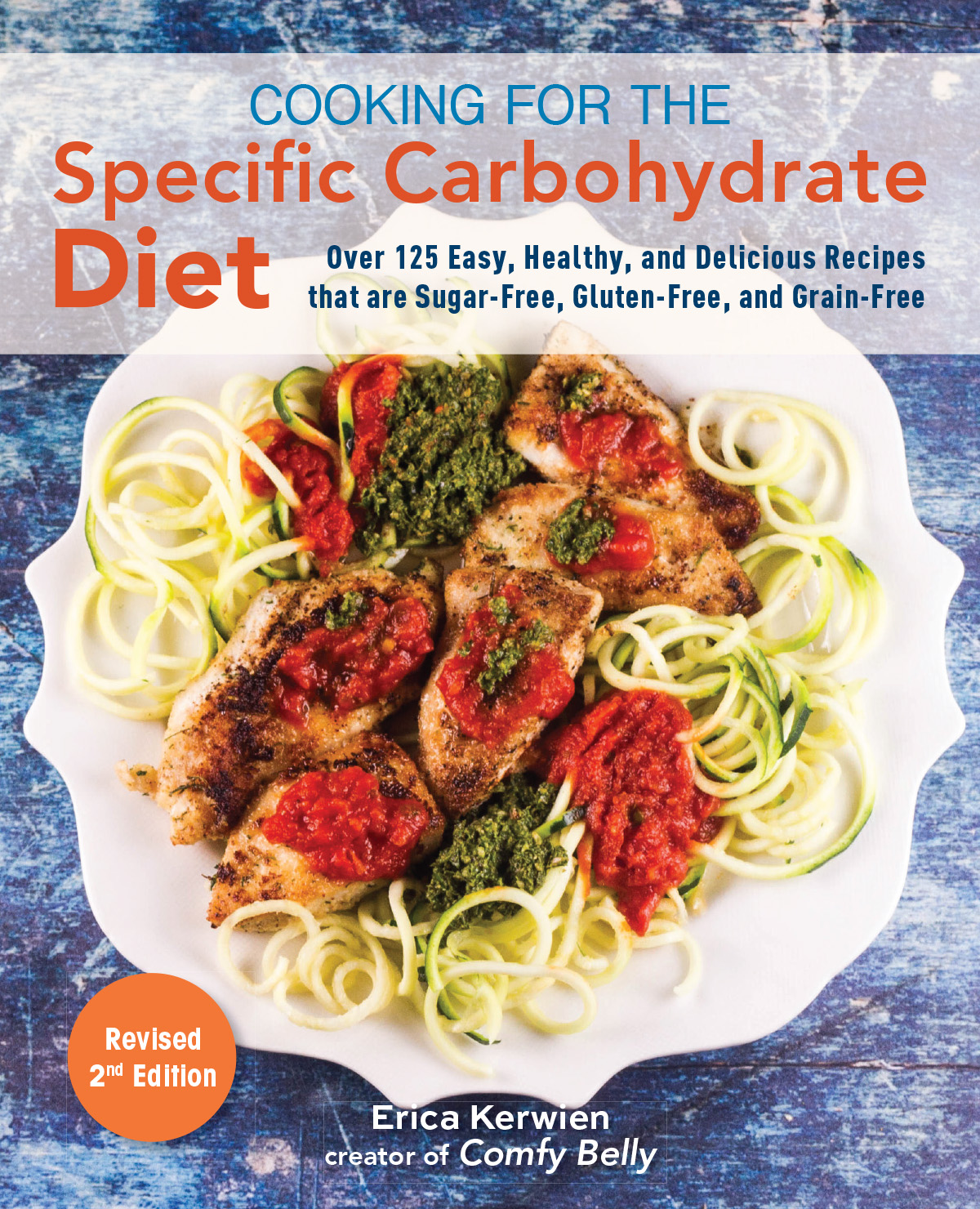 Cooking for the Specific Carbohydrate Diet
English Muffin
I've tried this recipe with a whole egg and it comes out much moister, but the taste is a bit more flavorful thanks to the yolk. The texture is slightly different as well; a bit spongier. 
If you want to purchase a container of egg whites instead of using a whole egg and having a leftover yolk, 1 large egg white is equal to 2 tablespoons of egg white.
I managed to get 4 thin slices from this recipe, but most of the time you'll get 2 thick slices, or 3 thinner slices.
I used a 3.5 inch ( 8.9 cm) ramekin (in diameter), which holds about 4 ounces of liquid. A slightly larger diameter would have yielded closer to 2 slices.
If you don't have a microwave or don't use one, you can bake it but it does crumble a bit. To bake it, generously oil the inside of the ramekin or bowl, and bake in a preheated oven or toaster oven at 400° F (200° C, or gas mark 6) for 15 minutes, or until it's solid. You may need to slide a knife along the sides to wiggle the muffin out of the ramekin.
Ingredients
1/4

cup

blanched almond flour

1

tablespoon

coconut flour

1/8

teaspoon

baking soda

1/8

teaspoon

salt

1

large

egg white

1/2

teaspoon

oil

2

tablespoons

warm water
Instructions
Add the flours, baking soda, and salt to a small ramekin or microwave-safe bowl, and mix well with a fork.

Add the egg white, oil, and water, and mix well.

With a fork, spoon, or your fingers, flatten the batter so it's even on top.

Microwave the ramekin for two minutes.

Turn the ramekin upside down to slide out the muffin.

Slice in into 2 to 4 muffin halves and toast each slice.

Cover with butter, peanut butter, jam, or what ever your heart desires.
Nutrition
Calories:
111
kcal
|
Carbohydrates:
5
g
|
Protein:
5
g
|
Fat:
8
g
|
Saturated Fat:
1
g
|
Sodium:
249
mg
|
Potassium:
27
mg
|
Fiber:
3
g
|
Sugar:
1
g
|
Calcium:
29
mg
|
Iron:
1
mg
SaveSave
SaveSave
SaveSave
SaveSave
SaveSave
SaveSave
SaveSave
SaveSave
SaveSave
SaveSave
SaveSave
SaveSave
SaveSave
SaveSave
SaveSaveSaveSave
SaveSave
SaveSave
SaveSave